Our evidence
We have growing evidence for the effectiveness and safety of our Wolbachia method and have set up projects in 12 countries.
We have released Wolbachia-carrying mosquitoes to reach approximately 5 million people (as at December 2019). In areas where Wolbachia is self-sustaining at a high level, there has been a significant reduction in the number of dengue cases.
Results from our project sites show dengue incidence is significantly lower in Wolbachia-treated communities compared with untreated neighboring populations. Our most recent gold-standard trial in Yogyakarta showed a 77% reduction in dengue incidence in Wolbachia treated areas compared with untreated areas.
Safe and self-sustaining
Wolbachia is safe and its virus-blocking properties persist in mosquito populations many years after release.
Reduced disease burden
There have been large reductions in dengue incidence in communities where the World Mosquito Program's method has been applied.
Deployable at large scale
City-wide deployments are in progress in Medellín and Bello, Colombia and Rio de Janeiro and Niterói, Brazil (due to complete in 2019).
Economic benefits forecast
The World Mosquito Program's method is predicted to be cost-saving in urban communities.
Clinical trials underway
Results from a randomised controlled trial in Yogyakarta, Indonesia have recently been announced. Ongoing city-wide trials in Columbia and Brazil hope to release results in 2021.
Mathematical modelling
Independent experts predict that the World Mosquito Program's method will eliminate dengue transmissions for decades.
Since the World Mosquito Program's Wolbachia method was established in Cairns' mosquito population, we've seen an end to debilitating outbreaks of dengue. The World Mosquito Program's technology has revolutionised health security in northern Queensland, bringing peace of mind to thousands of people.
Dr Richard Gair
Director and Public Health Physician, Tropical Public Health Services Cairns, Australia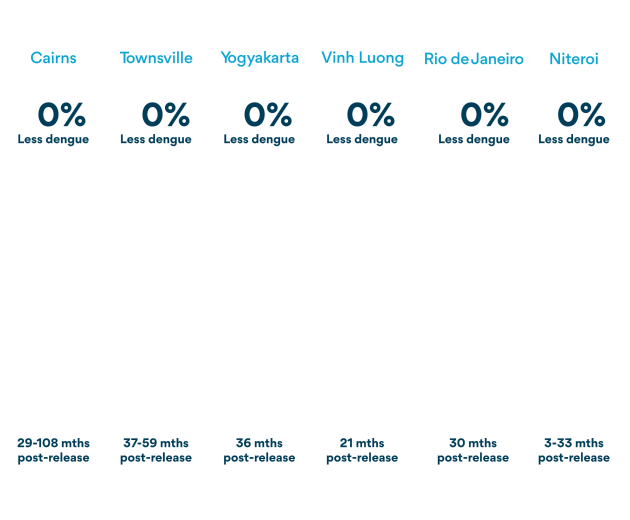 Country & Sites
Release status
Area
People reached
Impact-to-date

Vietnam

Vinh Luong
Releases completed 2018
2.2 km²
15,670
Dengue incidence ↓ 79% compared to neighbouring Nha Trang city.

Indonesia

Yogyakarta
Releases completed 2017
18.4 km²
242,665
Dengue incidence ↓ 79% in pilot study area. A randomised controlled trial is ongoing until 2020.

Australia

northern Queensland
Releases completed 2011–2019
300 km²
312,183
Dengue incidence ↓ 96%. Effective elimination of dengue as a public health problem.

Colombia

Medellin and Bello
Releases ongoing as of June 2019
131.01 km²
2,760,152
No dengue outbreaks in Wolbachia-treated areas of city-wide deployments.

Brazil

Rio de Janeiro and Niteroi
Releases ongoing as of June 2019
129 km²
1,264,890
Preliminary results of city-wide deployments indicate dengue incidence ↓42–74% and chikungunya incidence ↓up to 64%.

Western Pacific

Suva, Nadi, Lautoka Fiji; Port Vila, Vanuatu; South Tarawa, Kiribatii
Releases completed at all Pacific sites as of June 2019
157 km²
351,000
Monitoring ongoing, with results expected 2020.
The Wolbachia method is a great public health scientific achievement to address major challenges in global health, including the United Nations' Sustainable Development Goals. We're proud to be collaborating with the World Mosquito Program to deliver this environmentally friendly, accessible and sustainable solution.
Dr Paulo Gadelha
Former President of the Oswaldo Cruz Foundation (FIOCRUZ) Brazil and UN 10-Member Group to support Technology Facilitation Mechanism
How we evaluate
our impact
We evaluate the health impact of our work by:
Analysing public health data. This data, which is collected by local government authorities, shows if there has been a reduction in mosquito-borne disease once Wolbachia is successfully established.


We never thought that there could come a time when someone would research on a mosquito that was safe…
Premila Chandra
Nadi Chief Health Inspector
United Nations' Sustainable Development Goals
In 2015, world leaders agreed to 17 Global Goals for Sustainable Development, to create a better world by 2030.
Our work supports many of the Sustainable Development Goals (SDGs), primarily SDG #3: Good health and well-being, in particular Target 3.3: Fight communicable diseases. This target calls for the end to epidemics of AIDS, tuberculosis, malaria and neglected tropical diseases and to combat hepatitis, water-borne diseases and other communicable diseases. Dengue, Zika and chikungunya are classified as neglected tropical diseases.
Our work also supports
Costly medical treatment for mosquito-borne diseases cause financial hardship for individuals and households, and time spent recuperating restricts their ability to earn a living or pursue education. Our work towards reducing these diseases will help to decrease poverty and increase economic prosperity.
The global effort to control and eliminate mosquito-borne diseases is one of the largest public health initiatives ever undertaken. Our work towards mobilising financial resources from partners and funders, and working in partnership with government, non-government organisations and local communities, is helping to reduce mosquito-borne diseases.
Supporting women
and girls
Women and girls are particularly affected by mosquito-borne diseases such as dengue and Zika.
Our research shows that girls with dengue are at higher risk of severe symptoms and death than boys.
Women who are infected by Zika virus during pregnancy can bear children with serious health conditions, including microcephaly and Guillain-Barré syndrome, which can cause life-long disability.
The World Mosquito Program's innovative method to prevent mosquito-borne diseases is, therefore, supporting women and girls to live healthier lives and prevent the risks associated with mosquito-borne diseases.
Neglected tropical diseases
Neglected tropical diseases are a diverse group of communicable diseases that are common in tropical and subtropical conditions in 149 countries. Every year, they affect more than one billion people and cost developing economies billions of dollars.
People living in poverty, without adequate sanitation and in close contact with infectious vectors, domestic animals and livestock, are those worst affected. Neglected tropical diseases are called 'neglected' because they generally afflict the world's poor and historically have not received as much attention as other diseases.
The World Health Organization manages classification and public health information about these diseases, which include dengue and chikungunya.
The World Mosquito Program uses safe and natural bacteria called Wolbachia to reduce the ability of mosquitoes to transmit dengue, Zika, chikungunya and yellow fever.