The World Mosquito Program in Colombia is part of a global, not-for-profit initiative that is working to protect local communities from mosquito-borne diseases.
More than 25 million people are at risk of dengue, which is more than half of Colombia's population. A number of large-scale outbreaks have occurred in recent years. The number of Zika cases also increased rapidly following a global outbreak of the mosquito-borne disease in 2015.
(Data updated June 2022)
Number of people reached
4,020,000
Total area reached
160 km²
We are using our self-sustaining Wolbachia method to introduce naturally occurring Wolbachia bacteria to mosquito populations to help combat dengue, Zika and chikungunya in Colombia. When Wolbachia-carrying mosquitoes are released, they breed with wild mosquitoes. Over time, the majority of mosquitoes will carry Wolbachia. These mosquitoes will have a reduced ability to transmit viruses to people, decreasing the risk of outbreaks of dengue, Zika and chikungunya.
In May 2015, the community of Paris, in the Bello neighbourhood, welcomed the country's first release of Wolbachia mosquitoes. This marked the first step towards establishing Wolbachia in the mosquito population and reducing the local transmission of mosquito-borne diseases.
The release came after almost two years of work in the laboratories at the University of Antioquia and extensive engagement with the local community. Local and national government officials have put their support behind the project, in the hope it can offer a cost-effective, sustainable alternative to current dengue control approaches.
In early 2017, following encouraging results from small-scale trials, we expanded our project into the state of Antioquia.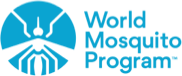 WMP Colombia factsheet.pdf
As well as measuring the impact of Wolbachia on the transmission of mosquito-borne diseases, our research in Colombia is expected to demonstrate a significant reduction in the number of new cases of dengue, Zika and chikungunya.
Following many years of laboratory research and field trials with promising results, we have received widespread support from communities, governments and regulators around the world.
The World Mosquito Program's work in Colombia is generously supported by the US Agency for International Development (USAID) through the Combating Zika and Future Threats Grand Challenge.
Partners and supporters
11
Supporting groups, companies and institutions
2100
Engagement and public acceptance
Our Public Acceptance Model guides engagement, communication and
issues management. No mosquitoes are released until we receive endorsement by the
local Community Reference Group.
93.5%
public acceptance in Bello (Paris)
90%
public acceptance in Bello (municipality)
97%
public acceptance in Medellín