In some ways, the Aedes aegypti mosquito is an equal opportunity predator: as long as you're human, you could be its next meal. But when it comes to mosquito-borne diseases like dengue, Zika, chikungunya and yellow fever, it isn't that simple.
Women may be just as likely as men to contract mosquito-borne diseases, but they are impacted by them in specific ways, from health and pregnancy outcomes to an increased burden of unpaid care, both at home and in the healthcare sector.
Here's how mosquito-borne diseases uniquely impact women.

Health and Pregnancy
There are many different kinds of mosquito-borne diseases with many different symptoms and outcomes. But when we talk about women, the virus that first comes to mind is Zika.
Most people with Zika virus infection do not develop symptoms. But in some cases, women who are infected with Zika virus during pregnancy bear children with serious health conditions, such as a smaller than expected head size (called microcephaly), brain development problems, impaired vision, decreased joint movement, and stiff muscles that make movements difficult.
They may also have lasting special needs as the conditions listed above could hamper their progress in moving, learning, speaking, and playing.
This was what happened to Silvia's daughter, Francisca. Between 2014 and 2017, global Zika outbreaks were recorded in Africa, the Americas, Asia and the Pacific. In 2016, Silvia was one of 350 pregnant women in El Salvador who had babies who were infected with the Zika virus, which can be contracted either via mosquitoes or through sex with an infected partner. Francisca, Silvia´s daughter, was born with most of the health conditions associated with Zika.
"Her head was very small at six months and was not growing, but now she has grown, and everyone is amazed to see her. Even when they interact, she is always happy … My daughter has shown me that she is very brave."
Silvia, El Salvador
Diseases like dengue can have dire health consequences for those infected. But they can also stop children from going to school and adults from going to work, which puts additional strain on caregivers who are usually supporting other children and extended families while trying to work themselves.
More often than not, these caregivers are women.
Globally, women complete three-quarters of unpaid care work, giving it 3.2 times more of their time than men. This means that when someone in her family falls sick, it is usually the mothers, grandmothers, daughters or aunts who are taking on the responsibility of care.

This was the case for Thilaka Hettikodahe, who hosted one of the World Mosquito Program's BG traps when we began Wolbachia mosquito releases in Colombo, Sri Lanka. When her young son contracted dengue, she was terrified for both her son's welfare and how she would manage on her own.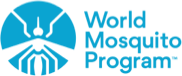 "My son was about 10 years old. He had a fever … [A doctor] confirmed it was dengue and admitted him to his ward. I was very scared as my husband was also not with me. My daughter was older but I was worried about how to get everything done alone."
Thilaka Hettikodahe
a BG trap host in Colombo, Sri Lanka
"I came to science motivated by the community and public health work. From a very young age, I collaborated in community support actions in remote areas of the city of Cali. There, I learned how illnesses like dengue can be devastating for families and it made a big impression on me ... that's why I wanted to study medicine and, 30 years later, what keeps me in the field, now with the World Mosquito Program."
Dr Maria Patricia Arbelaez
WMP Epidemiologic Consultant in Colombia
Community engagement

Women healthcare workers like Dr Arbelaez play a critical role in protecting communities. But women are also extremely active when it comes to engaging their communities about mosquito-borne disease prevention.
The World Mosquito Program engages people of diverse genders, ages, ethnicities and sexual orientations to ensure our Wolbachia method is accepted by as much of the community as possible. Women's groups and women community leaders are also key partners in informing, engaging and supporting their communities to reduce mosquito-borne disease.
"We are happiest when everyone in the community is healthy. We will be happy when the World Mosquito Program's Wolbachia mosquitoes are spread evenly, worldwide. I am proud to be involved directly in supporting the program. It's a personal feeling of honour."
Erlin Tri Rahayu
Community leader and World Mosquito Program advocate in Yogyakarta, Indonesia
Erlin is not alone. In communities around the world, women play a critical role in raising awareness about the dangers of mosquito-borne diseases, supporting our Wolbachia mosquito releases, and implementing complementary methods of protection such as minimising waste, emptying water containers, and community education about mosquitoes.
We look forward to working with them to help create a world where diseases like dengue and Zika no longer impact the health, children and livelihoods of women.
Join our global community!
Help us spread awareness, take action, and save lives. Subscribe now and be a part of the solution!